Shop, Charge, Earn with MadEV: Madison's Role in IPC's Loyalty App EV Charging Integration
The global EV charging landscape is rapidly changing, with the EV Charging Station Market valued at over USD 20.3 billion in 2022 and projected to grow by 21.3% by 2032, driven by factors such as population growth, urbanization, and technological advancements, particularly in the Asia-Pacific (APAC) region. Malaysia has set ambitious targets for EV and hybrid vehicle adoption.
IPC Shopping Centre in Malaysia is adapting to this shift by integrating EV charging into their loyalty app, enhancing customer convenience. With a complete EV charging system in place, customers and visitors can make the most of their leisure time while their vehicles charge.
For years, Madison Technologies has been a reliable technology partner for IPC Shopping Centre, actively involved in the development and implementation of their projects. The EV Charger Management Solution is a prominent outcome of this partnership and was successfully launched in October 2023.
So, what are all key features of MadEV – The EV Charger Management Solution, that can create a complete shopping experience for IPC's visitors?
IPC Shopping Centre Launches EV Charging Loyalty App Integration Powered by MadEV
First and foremost, we want to extend our congratulations to IPC Shopping Centre for the successful introduction of their EV charging feature. As we look back on the period from October 3rd to October 24th, 2023, it's truly impressive that a total of approximately 40 hours of charging time has been utilised by the mall visitors! This achievement is truly commendable, and it's great to see how they've brought sustainability and convenience together in a seamless way.
At the heart of this feature is MadEV, an advanced EV Charger Management Solution from Madison Technologies. MadEV serves as a robust foundation, ensuring effective and optimized EV charging. Customers can easily charge their EVs while shopping, enhancing overall convenience.
Introducing MadEV – Turnkey EV Charger Management Solution Designed for Mobile App Integration
How MadEV Started
Electric Vehicle (EV) adoption and charging infrastructure growth in Malaysia are on the upswing, bolstered by government incentives and subsidies. In Kuala Lumpur, various public areas, including shopping centers, hotels, and more, are installing EV charging stations to accommodate the increasing number of EVs on the roads.
To support this trend, Madison proactively developed an EV app feature and expanded to create a Content Management System (CMS) to enhance flexibility. After several months of extensive discussions and dedicated effort, MadEV is now in the Beta phase, offering enriched features to enhance the user experience.
How Businesses Can Integrate MadEV into Their Digital Experience
Upscaling your digital offerings with MadEV integration not only enhances the customer experience but also positions your business at the forefront of sustainable and innovative solutions in the EV charging industry.
Increased Foot Traffic: Attract customers seeking convenient charging options.
Improved Customer Satisfaction: Offer a comprehensive app and pioneer early adoption.
Enhanced Brand Image: Attract environmentally-conscious customers and establish sustainability credentials.
Competitive Advantage: Stand out in sustainability and innovation among local competitors.
Increased Revenue: Generate additional income through EV charging.
Enhanced Loyalty Engagement: Enable customers to earn points, unlock rewards, and enhance loyalty.
How MadEV Empowers Businesses to Connect and Engage with Customers
To ensure the utmost efficiency, MadEV's Dashboard is designed to provide a seamless overview of the charging stations through the admin system. This comprehensive system covers everything from APIs to connector settings, all thoughtfully organized within a user-friendly platform. This design guarantees a fluid and intuitive navigation experience.
Additionally, MadEV offers a total of nine (9) features to provide the most realistic and valuable digital experiences, with four (4) core features: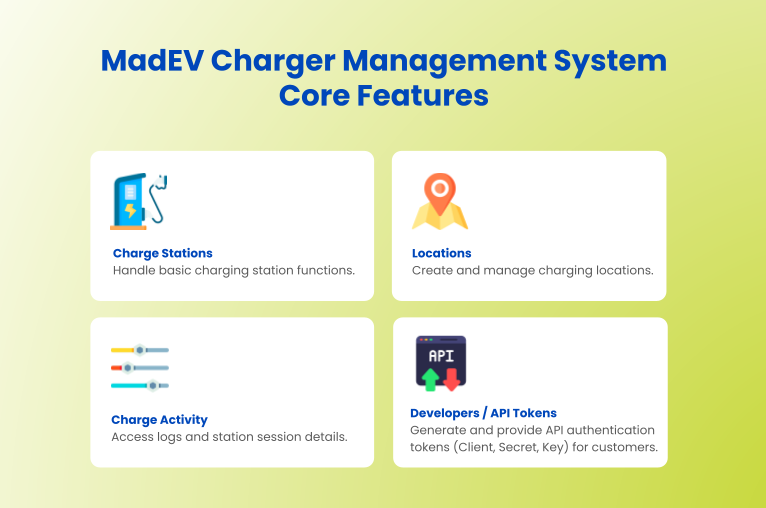 MadEV Charger Management System Core Features
Furthermore, the MadEV Charger Management System offers five (5) additional value-added features, including the ability to expand your charger network limitlessly, a commitment to ongoing technological advancement, versatile payment methods that break free from constraints, expertise in app development beyond MadEV integration, and a fee structure that allows you to retain the full earnings from user charging without sharing revenue.
Three Ways MadEV's Turnkey Charging Solution Drives Engagement & Customer Delight
User-Centric Design: Where Madison Excels
Madison's user-centric approach is evident in every aspect of the enhanced EV charging feature. The UX team actively collaborates with users, gathering feedback to improve the experience. This philosophy guides the transformation of IPC Shopping Centre's app, promoting sustainable transportation and the role of technology in positive change.
For example, the "Green Rewards" feature lets users earn 'tack points' with each EV charge, incentivizing eco-friendly choices. "Versatile Payment Options" streamline EV charging expenses through the payment gateway or rewards program vouchers for a seamless shopping experience.
Flexible Payment Choices
In an era where flexibility is the cornerstone of a good user experience, we understand the importance of giving users control. Shoppers now have the freedom to choose between using a payment gateway for EV charging expenses or redeeming rewards program vouchers. This flexibility empowers users to manage their spending while adding an extra layer of convenience to their shopping experience at IPC Shopping Centre.
Park, Charge, Win
MadEV aims to enhance both business and user experiences by incorporating gamification elements. These elements encourage users to charge their electric vehicles more often, earning rewards and increasing engagement.
It goes beyond technology; it's about creating a greener and more rewarding shopping experience. Electric vehicle users enjoy two benefits: reducing their carbon footprint and earning valuable "tack points" with each charge. This innovative approach promotes eco-friendliness and personal savings, turning charging into an opportunity for environmental impact and personal gain.
The Future is EVs
As EVs gain global popularity (Statista projects a $561.3 billion market in 2023), the demand for EV-related services is surging, driven by both eco-conscious consumers and supportive governments. Products and services like MadEV's Charger Management Solution play a pivotal role in bridging technological advancements with everyday user experiences, creating an efficient ecosystem that motivates EV adoption for an advanced and sustainable future.
About the Author
| | |
| --- | --- |
| | Jing Wen is a UX/UI Designer with a flair for crafting seamless digital experiences at Madison Technologies. With 7 years of design expertise, she transforms complex ideas into intuitive, user-friendly interfaces. When not designing, she can be found watching movies or playing video games. Connect with Jing on https://www.linkedin.com/in/jingwencreative/ to stay updated on her latest creative adventures. |